ABOUT
Merits
In short
2016:
4th World Championships Sprint Relay (Ward-Hodkinson-Jones-Taylor)
2015:
1st World Cup Final Middle distance
GOLD Swedish Championships relay (Kuuselo-Taylor-Billstam)
5th World Championships MIddle distance
6th Word Championships Long distance
7th World Cup overall standings
2014:
BRONZE European Championships Long distance
3rd Venla relay (Olsson-Kazlauskaite-Taylor-Billstam)
2013: 
3rd Venla relay (Taylor-Bäckström-Kazlauskaite-Billstam)
10th World Championships Long distance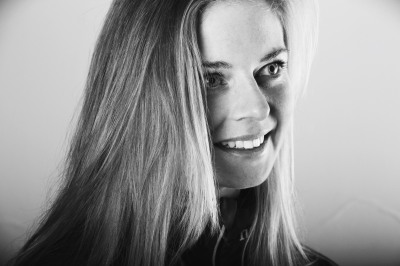 Name: Catherine Taylor (usually Cat!)
Born: 11th August 1989
Hometown: Whitby, North Yorkshire, UK
Living: Stockholm, Sweden
Family: Parents Wendy and Paul, sister Lucy
Profession: Athlete, translator
Coach: Orienteering technique - Richard Baxter. Physical: Self-managed, with  help from British Orienteering and Harper Performance
Hobbies: Knitting, reading, picking bits of forest out of my hair :-D
Photo: Tilde Backlund - tildebacklund.weebly.com
BACKGROUND
I'm from Yorkshire, born between heather moorland and the North Sea. Both my parents were dedicated 
orienteers
 and travelled each weekend to run in different forests, so my sister and I spent a lot of our first years running about and making dens in
 the trees or heather.
Aged 5 or 6 I started orienteering too, with mum or dad helping out. I already dreamed of being an athlete but didn't think you could be an orienteer and would rather emulate my heros competing in the Athletics stadium. 
Aged 7 I started orienteering off the paths, trying to run like the deer and using something exciting called "contours" that showed hill shapes on the map. Now it was really fun! Dad explained that you can compete at orienteering at a high level and I decided this was my sport.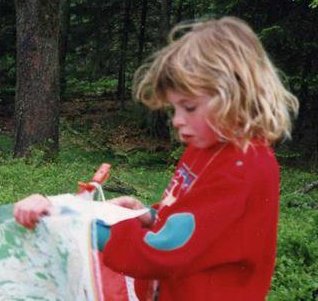 First steps. Hair by Wendy Taylor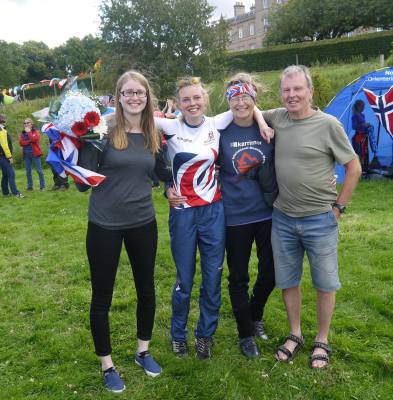 By 14 I was training hard at orienteering (and lots of other sports at school). Winning races seemed really important. I did win a lot, but I put a lot of pressure on myself and it wasn't always fun. At the end of this year I needed a break from sport.
I soon got unhappy without my sporty lifestyle and longed for a way to regain control. I started to run again, for the wrong reasons. Just turned 16, I was dangerously underweight and almost hospitalised. It's thanks to my clued-up family that I got the right treatment quickly. 
Side note: This part of my story isn't special. Sadly, it's much too near to being normal. Eating disorders and related issues with overtraining, depression and anxiety are highly prevalent in sport and are too damaging to be a taboo subject. I'm not qualified to offer advice other than these problems thrive when they're secret. Nobody should have to face them alone! You can find lots of great help and advice
HERE
.
Taylor family at WOC 2015. Photo by Dave Aspin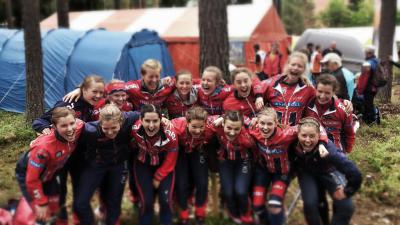 It took lots of time to rebuild, and not only physically. Four years of injury problems followed as I tried to restart training and watching races and life from the sidelines was incredibly painful. But I was forced to be patient, not give up and to concentrate on my own efforts and achievements rather than results lists. In the end, after much doubt and determination, it worked.
I'd always planned to move to Scandinavia to pursue my sporting goals. In my exchange year at university I had a first taste of how life could be training with a Swedish club, OK Linne in Uppsala. It was every bit as good as I imagined!
 With the team's support I could start training again and push myself hard to compete at an ever higher level. After five years of work and growing success in orienteering based in Uppsala, it was finally time to move.  I moved to live with friends and make a new start in Stockholm. I started training with local club OK Södertörn, and soon decided I would race in these colours, too.
​
One of many great times with Linne. Photo: Henrik Löfås.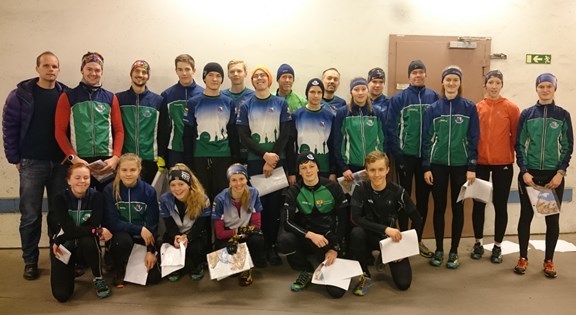 Changing club from an elite behemoth to a small family means taking on a new role. As an "older sister" I have a great chance to pass on experiences, which helps my continued development and motivates me to keep striving and developing as an athlete. As I push to become even better at my sport, you're welcome to follow my adventures, challenges and progress here in my little corner of the Internet.
New club colours, same game. Photo: Marielle Larsson
CONTACT
Do you have any comments or questions that I can help with? E-mail me and I will get back to you as soon as I can.
// Cat